Combine a Breast Lift with Implants to Achieve a Perkier, Fuller Figure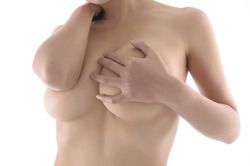 Over time, weight fluctuations, pregnancy and breastfeeding, and the natural aging process can cause the breasts to sag. Breasts that were once more youthful-looking and perky can eventually hang lower on the chest, and change in size, shape, and texture. While this is a natural and expected process, many women may feel self-conscious about changes to their breasts. To lift and improve the volume of your bust, Dr. Madhukar Chhatre can combine breast lift with implants at his Kansas City practice. To find out how this procedure can boost your confidence, contact our practice today and schedule your consultation.
The Breast Lift Procedure
A breast lift is a surgical procedure that removes excess, sagging tissue and repositions the breast mound higher on the chest. This achieves an overall more youthful and balanced appearance. Conventionally, breast lift surgery uses an anchor-shaped incision running vertically down from the nipple to the base of the breast and along its crease. Through this incision, Dr. Chhatre will remove excess skin and tissue before moving the nipple to a more natural location. He may also reshape the breasts for more symmetrical proportions.
Although a breast lift is a great way to improve the positioning of your breasts, it cannot recover lost volume. For women who want to increase their cup size while also lifting sagging tissue, a breast lift with implants is often the preferred way to achieve a truly enhanced physique.
Combining Breast Lift with Implants
Many of Dr. Chhatres's breast lift patients choose to have implants placed during their surgery, effectively bringing together the breast lift and breast augmentation procedures. Women who have breastfed or lost significant weight typically experience a decrease in their breast volume, especially in the upper portion. Breast implants can allow these women to achieve a bust line with improved size and proportion.
Choosing the Right Breast Implant
Breast implants come in a variety of sizes, shapes, and projections, so we can help you find one that best meets your specific aesthetic goals. Choosing the right implant is important to your long-term satisfaction in the results of your procedure. Dr. Chhatre will work closely with you to determine the specifics of your treatment during your consultation. By closely collaborating with patients, Dr. Chhatre can help patients make informed decisions throughout their care.
Dr. Chhatre's ultimate goal is to help his patients achieve an improved, more youthful-looking figure so that they will feel more comfortable about their appearance. Although not every breast lift patient who visits Dr. Chhatre's practice chooses a lift with implants, it remains a very popular option. Regardless of the specifics of your procedure, Dr. Chhatre possesses both the surgical experience and eye for artistry needed to produce outstanding results that look completely natural.
Contact Our Practice Today to Schedule Your Consultation
An expertly performed breast lift with implants can be the key to newfound confidence. Contact our practice today to schedule a consultation and learn more about how this cosmetic procedure can improve your sense of self.